Going on vacation soon, but unable to bring your cat or dog with you? Give them their own getaway at Golden Paws Pet Resort & Spa!  Our knowledgeable and trained staff will care for and pamper your pet in our comfy luxury suites designed to make them feel right at home while you're away. Enjoy your vacation with peace of mind knowing that your furry family members are being loved by the Golden Paws family. Come along, let's explore the Golden Paws lodging experience!

Luxurious Lodging Suites for Your Doggos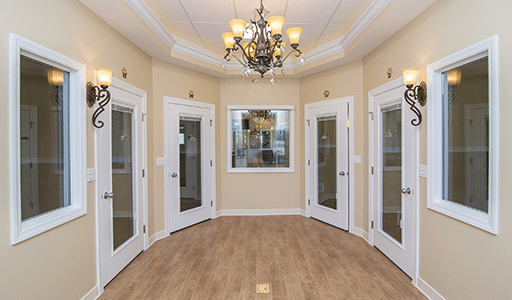 As a family-owned business run by local pet-lovers from Mercer County, our staff understands the needs of every pet that visits our facility. That's why we go above and beyond by providing spacious suites and spoiling your pets with love and affection. Our luxurious accommodations come with more amenities than your luxury cruise cabin!

Our Overnight Lodging Suites Include:
Ceiling Fan
Flat Screen TV
Dimmable Lights
Private Patio

Calming Music
Raised Bed
Story Time
Gourmet Treats

Amenities will vary depending on the boarding package you select when making a reservation

Exercise, Education, & Relaxation
If you want your pup to have more than what's offered in our premium boarding packages, we've got it covered. Our guests at Golden Paws can partake in the following activities:
Got a pooch who loves to run around and play all day? Sign them up for group play!
Still training your puppy, but afraid of losing progress? We'll take over while you're gone!
And for all the pampered pups out there who love looking fabulous: Our spa is ready for you!
Our Kitty Corner Has Purrfect Condos for Felines & Small Animals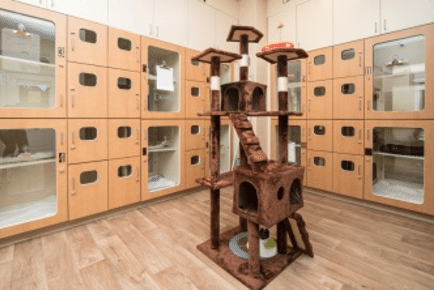 We didn't forget about our small animal and feline friends! Golden Paws Pet Resort & Spa is the perfect place to let your kitty (or even bunny!) relax while you have a blast on vacation. Our small animal condos come with cozy bedding, daily pampering sessions, daily brushing, gourmet snacks, and other personalized accommodations as requested by you. Our TLC package even comes with an extra belly rub before bedtime, because we know your kitties will love the special attention from getting goodnight snuggles. Don't worry, we're belly-rub experts!
Reserve a Luxury Suite at Golden Paws Pet Resort & Spa
Golden Paws is a family-owned business run by down-to-earth pet-lovers who understand that pet owners want caring and dependable boarding places near Jackson, NJ for their dogs and cats — and that's why we do what we do. We provide lots of updates to keep you at ease, and our staff is always happy to make special accommodations for you. Our goal is to give you peace of mind so you can enjoy a relaxing and luxurious vacation. And to also give your pets an even better vacation! Your four-legged family member will be eager to tell you all about their trip to Golden Paws Pet Resort & Spa when you get home.
Your Pets Deserve a Vacation Too; Book a Suite at Golden Paws Pet Resort & Spa Today!